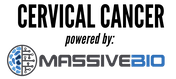 Cervical Cancer Clinical Trials
According to the American Cancer Society, in 2020, about 13,800 new cases of invasive cervical cancer will be diagnosed in the US, and 4,290 women will die from cervical cancer. Most cases of cervical cancer are caused by the Human Papillomavirus (HPV), but regular screening can be helpful with cancer prevention. The increased use of the Pap test has decreased the death rate of women with cervical cancer because it helps with early detection. The HPV test can also help with screening for cervical cancer. As a cancer that is frequently diagnosed in younger women aged 35-44, it often comes as a challenging surprise. Surprises can be less of a challenge when you arm yourself with Massive Bio's assistance.
Massive Bio's number one priority is to create positive outcomes for cancer patients. With the Clinical Trial Matching Service and Virtual Tumor Board, you are one-step closer to reaching that positive outcome.
Cancer clinical trials are important for cancer treatment; they find and prove new ways to fight cancer. By participating in a clinical trial, you can find the best treatment for your cervical cancer and help others who are struggling with cervical cancer. Getting access to the right clinical trials and right treatments shouldn't have to be overwhelming. That's why Massive Bio uses the clinical trial matching service to match cervical cancer patients to the right clinical trials based on the stage of disease, biomarker status, geographical location and past medical history.
Cervical cancer clinical trials are the future for finding new and more effective treatments than the current standard of care. Your participation can help future patients like you get access to innovative cancer treatment, such as new approaches to radiation therapy, chemotherapy, surgery, and more. Contact Massive Bio today to get help finding and enrolling into a clinical trial.
Find a Cervical Cancer Clinical Trial
Do You Have Any Questions?
Be one step closer to finding cervical cancer treatments.
Get a second opinion from US oncologists, without leaving your home.
If you have relapsed, or current therapy has failed, there are more options for you.
Access to clinical trials & immunotherapy treatment options.
Cervical Cancer Treatment Options
Cervical cancer treatment depends mainly on the cancer's staging, however, surgery, chemotherapy and/or radiations are the primary methods used.
When caught in its early stages, surgery can also be a treatment option, but this also depends on the size and stage of the cancer. The surgery options include cutting bay at the cancer only when the cancer is relatively small, which leaves the best chance for becoming pregnant in the future. The other options involve removing the cervix, a process known as a trachelectomy, or removing the cervix and uterus, a process known as a hysterectomy.
Radiation therapy can be given externally through radiation beams, or internally by placing a radioactive filled device in the affected area for a short period of time. Chemotherapy, on the other hand, is given through a pill or by vein.
Other treatments include immunotherapy or supportive care.
Effects of Cervical Cancer
Why Join A Cervical Cancer Clinical Trial?
Clinical trials can give early access to emerging, unique cancer treatment options.
Your participation in a clinical trial will help doctors in finding new ways to treat, prevent, diagnose, and control cancer illness. Participation can also improve your cancer prognosis and quality of life. Our virtual clinical trial matching services will find trials close to your home. Finding the right clinical trial for your cancer case can be overwhelming and time consuming, that's why we are here to guide you through the process.
Get early access to a new cervical cancer treatment option
Help advance cancer research with your participation
Get personalized treatment recommendations with trial matching specific to your cancer case
Your case information will be registered in our proprietary Artificial Intelligence based oncology clinical trial matching and registry platform, SYNERGY-AI. After registering, you will receive a detailed report of clinical trials you are eligible for.
Benefits
Find Cervical Cancer Clinical Trials
Massive Bio is prepared to help you fight cervical cancer. We offer you convenience, education, personalization, and expertise.
Travel isn't necessary
Our clinical trial matching service is entirely virtual. You don't have to leave your home to get clinical trial matches, and you will be aware of your eligibility for a trial before you travel to a physical site.
Positive outcomes are our priority
Our priority is to get you a positive outcome. Massive Bio's patient advocates have all the information you need to know about the clinical trial search process and will do everything they can to help you.
We pre-screen you for eligible cervical cancer trials
Pre-screening for clinical trials takes into consideration all the details of your cancer case. Your disease stage, biomarker status, geographical location and more will help ensure the matches provided to you are the best for your specific case and prognosis.
Guidance every step of the way
We provide guidance through trial matching, qualifying and enrollment. Any enrollment issues that arise will be dealt with by our management team, whether it's site selection, financial issues, or other enrollment limitations you may have.
Frequently Asked Questions
Join this Cervical Cancer Facebook Group for Community Support
Patient's recently diagnosed or relapsed with Cervical Cancer may wonder what the right next step to take is. Join a community of others who are going through Cervical Cancer to discuss questions, concerns, and share stories.