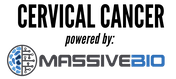 We Put You First
We know that there are many difficulties that come with being diagnosed with cervical cancer. That is why we have multiple resources for you to assist in your fight against cancer. Our tools and patient advocates can help you explore different treatment options, get access to clinical trials and understand the latest therapies for your cancer. Our team reviews your case and provides a list of personalized clinical trial matches from more than 30,000 available clinical trials in the United States.
Our Virtual Tumor Board
The Virtual Tumor Board (VTB) is a team of specialists from the world's largest cancer research centers.
Your Virtual Tumor Board is comprised of 3 or more physicians who gather and review all your medical history to offer an unbiased, expert analysis with recommendations for your cancer treatment.
The physicians are armed with the latest information available, ensuring your treatment plan is unique and based on the world's latest and best clinical research and therapies.
Don't let the name Virtual Tumor Board mislead you. While we utilize technology, our treatment plans have a human touch, supervised, and customized by world-renowned physicians. You will also have full end-to-end support from a member of our patient advocacy team, who is typically an oncology nurse.
We go above and beyond to integrate all available information for your specific case, comparing and outlining the similarities and differences of the doctors' opinions with that of current cancer research, to produce the most educated, evidence-based analysis with the most comprehensive details to drive your cancer treatment plan.
The SYNERGY-AI Cancer Clinical Trial Finder
The Artificial Intelligence (AI) based engine matches your unique characteristics and cancer genomics to thousands of active clinical trials, to locate and notify you of your eligibility to enroll in real-time. We are the only company to use an AI-integrated app and mobile technology to find your eligibility for clinical trials, as well as the best sites closest to you. Clinical trials are located around the United States and all over the world. With over 30,000 clinical trials in the United States alone, you can search for specific areas that you would be willing to travel within.